DEPARTMENT OF STATISTICS
FLORIDA STATE UNIVERSITY
Newsletter, Volume II, Spring 1999












New Computer Lab Opens

Bill Walton Leaves After Nine Years

Meet James Stricherz - Our New Computer Specialist

Meetings Were Filled with Alumni and Friends

Grad Made Good Gives Back

Graduate Students Start New Seminar Series

Faculty Activities Span the Globe

Duane Meeter's Mexican Adventure

Research Update - Xufeng Niu and Pi-Erh Lin

New Grants

New Tennis Table Champ at FSU

Ten New Students to Join the Department

Publications and Presentations

Other News and Events

Gift Form

Alumni Update Form
---
Laboratory for Computational Vision Opens
On March 23, 1999, the Department officially announced the opening of the Laboratory for Computational Vision. Located in room 201G of the Oceanography/Statistics building, the laboratory is equipped with high-performance computers and accessories that will greatly facilitate the research of Professors Jayaram Sethuraman, Anuj Srivastava, and De Witt Sumners in the field of computational vision.
It is well established that vision, human or animal, is a computational process. In order to develop automated systems for processing visual information, one has to seek tractable mathematical representations of objects, formulate statistical inference problems and write efficient algorithms for solutions. Such systems will contribute in the areas of military surveillance, computer-guided surgery, diagnosis on human anatomy, robotic navigation, and shape studies, among others. This research requires high-performance computers for visualization, computation, database storage, and computer networking. The Laboratory for Computational Vision consists of Silicon Graphics computers suitable for these tasks.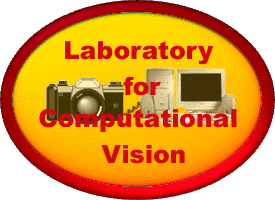 The centerpiece of the new lab is an Onyx 2 workstation which provides a multi-user environment for massive computation, database management, and visualization. The lab also contains three Octanes for high speed computational projects, three O2's, multiple PC's, and accessories such as a scanner, digital camera, inkjet printer, color laser printer, TV/VCR display, and a CD writer. This $300K facility is funded through an Army Research Office DURIP (Defense University Research Instrumentation Program) grant to Jayaram Sethuraman and Anuj Srivastava, a National Science Foundation MRI (Major Research Instrumentation) grant to Sethuraman, Srivastava, and Mathematics Professor De Witt Sumners, and matching funds from the University. Although, the lab will be used primarily by Sethuraman, Srivastava, and Sumners, other collaborators and members of the department will have access to the lab's facilities on an availability basis.
More information about the Laboratory for Computational Vision, its members and their research can be found on the lab's website at http://lcv.stat.fsu.edu. The lab is being coordinated by Anuj Srivastava.

At the lab's opening celebration, keynote speaker Professor. Michael I. Miller of Johns Hopkins University gave a talk on "The Future of Medical Imaging". Miller is a leading expert in computational vision and medical image analysis. Don Robson from the University's Office of Research presented the opening remarks. All FSU faculty, students, and staff were invited to attend this event.
By Anuj Srivastava and Pam McGhee
Back to the Top
---
Bill Walton Leaves After Nine Years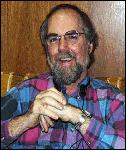 In December 1998, Bill Walton, our Computer Research Specialist for nine years, left the department to begin a new career in private industry with Amdahl, a company located in Raleigh, North Carolina. He is now a Systems Administrator working under a contract between Amdahl and Sun for the U. S. Postal Service.
Bill's first major project at Amdahl was working with another team member in the development of a certification process for applications and OS patches before they are sent out to the field. He is currently working on a paper to outline policies and procedures used internally by Sun that would be beneficial for the Postal Service to adopt. He is also devising several new strategies for expanding the Solaris presence within the U.S. Postal Service.
Bill says that he is still getting settled in his new job and that he is trying to forget the "old system [in the statistics department] so that he can adjust to the "new system" at Amdahl. Having to learn a new system does have its benefits, though; Bill is enjoying the challenge of learning different technologies, especially on the new Ultra 10 with two 4.3 gig drives, 256 megs of Ram, a Creator 3D video card, and a 24" wide screen monitor.
It may be "another 3 months (or more)" before he is familiar with everything that is going on at Amdahl and at its other locations around the country. Plans are in the works for him to travel to California sometime in April on a fact-finding mission for the company. He's working on the outlines/worksheets they will need for this trip, right now.
Bill joined our department in 1989 and spent the next nine years overseeing the operation, maintenance and improvements in our constantly changing and expanding computer system. He set up our current local area network of Sun computers and provided troubleshooting for the PCs and MACs within the department. He was always known to go the extra mile in helping others with their computer problems and he will be missed for that generosity. In closing, Bill says that he misses everyone "down there", but he is enjoying all the changes and new challenges in his life. We wish him much luck and success in his new career.
By Virginia Grice
Back to the Top
---
Meet James Stricherz - Computer Specialist and Meteorologist
The Department was very pleased to hire James Stricherz as our new Computer Specialist earlier this year. After having been without full-time computer support for almost two full months, we did not know what to expect from a new Computer Specialist (who also happens to be a meteorologist), but James proved to be a very valuable asset right from the start. Now that he has had time to familiarize himself with our system, it's time for us to get to know James …
"I was born on January 2, 1963 in Bisbee, Arizona. At the age of 13, my family moved to Koeltztown, Missouri, where I attended high school. I already knew at that time that I wanted to study meteorology, so I applied to and was accepted by Parks College (a unit of St. Louis University). I graduated with a B.S. in Aeronautics in April of 1984 and began graduate work at Texas A&M University that June.
My M.S. thesis was on the dependency of squall lines and available potential energy. While this was interesting work, it required that I become a programmer. Because I had several cases to study, I learned how to make job control files to make running individual cases easier. Both set me on the road to developing computer skills of all sorts.
In September 1989, I began working for Florida State University in Dr. James O'Brien's group, then called MASIG. My job at the time consisted of producing the famous FSU winds — these are surface wind products for the tropical Indian and tropical Pacific oceans based on in-situ data, mainly ships and buoys. The Pacific winds have been used to successfully predict the onset of El Nino and La Nina conditions, and they still compare quite favorably to totally objective analysis schemes employed by the National Weather Service and the European Center for Medium-range Weather Forecasting (ECMWF). While working on the winds project, I also had opportunities to hone my programming skills and to start branching out into a new area: system administration. When our system had problems and I couldn't get my work done, I would assist our administrator to the best of my ability. That's how I started picking system administration up. It was an interesting challenge -- one I readily tackled."

---
Meetings Were Filled with Alumni and Friends
Several members from our department and many of our former friends and students attended the Joint Statistical Meetings which were held in Dallas last August. During that week of meetings and events, Seminoles and friends, current and past, gathered for a Florida State Alumni Dinner at the Hard Rock Café. Attendees included Mary Baggett (Ph.D. '97), Phil, Elizabeth, and Katie Boland, Frank (Ph.D., '84) and Margo Guess, Myles and Glee Hollander, Fred Huffer, Michiko Ishiyama, Brad Jones (M.S., '80), J.S. Kim (Ph.D., '82), Kevin (Ph.D., '94), Debra, and Sierra Lawson , Ramon Leon (Ph.D., '79), Gang Li (Ph.D. '92 ), Ian McKeague, Kara Morgan (M.S. '98), Iris Shimizu (Ph.D., '71), Gerald Shoultz, Yangqing Sun (Ph.D. '92), Lori Wolfe (M.S. '81), and Hulin Wu (Ph.D., '93).
Our department also had a good representation at this year's Florida Chapter of the ASA Annual Meeting. The meeting was hosted by the Department of Statistics at the University of Florida in Gainesville — the chair of UF's Statistics Department is FSU alum Ronald Randles ('66 and '69). At the meeting, Ph.D. candidates Marc Loizeaux and Blake Whitten presented papers in the Chapter's First Annual Student Paper Competition. Marc then won the award for "Best Student Paper" for his work "Pose/Location Estimation of Ground Targets". Other presenters at the meeting included Professor Sethuraman and Shanti Gomatam, (Ph.D., '95). Next year's meeting will be held here in Tallahassee at the suggestion of the Chapter's newly elected chair, Jayaram Sethuraman.
By Pam McGhee
Back to the Top
---
In 1996, M.S. graduate Ron Hobbs ('67) came back to the department to present a talk in a colloquium series entitled "Statistical Success stories in Government and Industry" -- little did we know at the time, that Ron would later share more than just the stories of his success with us….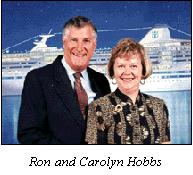 Earlier this year the Department received a very generous gift from one of our former graduates when Ron Hobbs and his wife Carolyn donated $100,000 and established the Ronald and Carolyn Hobbs Endowed Fund in Statistics. The Hobbs Endowed Fund is to be dedicated to the support of outstanding faculty and students and to the purchasing of equipment needed by the Department.

Back in 1967 Ron Hobbs was using the department's equipment while working with Professor Duane Meeter in our former location in the Love Building. "Ron worked with me in the basement of the Love Building advising people on which statistics program to use and on how to interpret their output," recalls Meeter. "Both of us have changed since then, but the computer programs and the ways statistics is being developed and applied have changed much more!"

The field of statistics may have changed greatly since Ron left FSU with his Master's degree in the late 1960's, but Ron's consulting skills and his knowledge of statistics proved to serve him well over the years. In 1976 Ron helped found Advanced Technology, Inc., a corporation in Virginia that provided high-tech engineering, analysis, and management support to clients in the government and commercial sectors. By 1988 Advanced Technology had grown from 5 employees to 2,500 and was making over $200 million a year in sales. Ron later sold that company, moved back to Tallahassee, and went on to head several other successful businesses. His most recent venture is the Twin Action Group of companies which he runs with
his twin brother Roger and Ron's three sons.

When asked if he'd like to share anything with his fellow alumni who may read about his contribution to our department, Ron simply stated , "A lot of people benefited greatly from attending and graduating from FSU and from the Statistics department. It'd be nice if some of them would come back and help the department." Ron, definitely knows about benefiting greatly from FSU -- besides thinking of FSU as the university that helped prepare him for his future success, Ron will always remember FSU as the place where he met Carolyn (B.S. Recreation Studies '65).

FSU received another gift from the Hobbs's this year — Ron and Carolyn donated $1 million dollars for
the construction of better athletic facilities.

By Pam McGhee

Back to the Top

---
Graduate Students Start New Seminar Series
In an unprecedented turn of events, graduate students in our department succeeded in their initiative to augment the usual Spring Colloquium Series with four special colloquia during which faculty describe in some detail their research, teaching, and consulting interests to the entire student body.
The genesis for this idea came during a well-attended, voluntary meeting of the graduate students in March. Some of the (eight to ten) participants at the meeting were surprised to discover a strong, universal desire for a greater understanding of exactly how the faculty operate and "what makes them tick''. For instance, three questions which were deemed to be important were "What research grants are faculty working with, and is there any funding available for students to work on such grants? What DIS (Directed Independent Study) opportunities are available, and what connections do faculty have which permit interdisciplinary research with other academic departments? What open problems do faculty have which might be suitable for dissertation work, and what expectations do they have of their Ph.D students?"
The students felt that an "open forum'' in which faculty would provide brief (15 minute) presentations, and then field answers, would be a tremendously helpful supplement to the usual informal conversations which occur between faculty and students on a one-to-one basis in our department. Five students subsequently met with chair Ian McKeague to discuss these ideas and propose the colloquia. McKeague agreed with the students, and offered to broach the idea with other faculty. The faculty responded graciously by agreeing to participate. In a twist on the usual operating procedure, the students chipped in
to purchase and prepare food and drinks for the four extra colloquia, formally entitled the "Seminars for Research and DIS Opportunities.''
The first colloquium on March 16 was met with an enthusiastic response from both students and faculty, who found that the relaxed and friendly environment made for easy and open discussion. It is too early yet to tell if the Seminar will become a department tradition, but most seem to agree that the extra cross-communication between students and faculty benefits everyone.
By Blake Whitten
Back to the Top
---
FSU Statisticians Go Down Under, Across the Pond, Over the Border, To the Orient, Etc.....
Li-Shan Huang began a one-year leave of absence from FSU this January to work with Peter Hall at the Center of Mathematics and its applications at the Australian National University. The University is located about 3 1/2 hours away from Sydney in Canberra, the capital of Australia. " It is a very nice and friendly city with around 30,000 people, about the same size of Tallahassee," says Li-Shan. Dr. Huang is working with Professor Hall on the projects of nonparametric curve estimation of constraints, e.g. nonparametric regression with monotonicity constraints.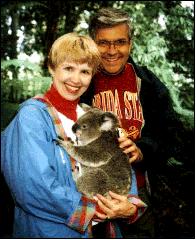 Doug and Andrea Zahn attended the International Environmetrics Conference and the Australian Statistical Conference-14 in Gold Coast, Australia from July 2-10, 1998. Doug gave a plenary address based on his work with Dan Boroto (Psychology), "In Statistical Consulting, There Are No Main Effects, Only Interactions or Consulting with Clarity, Certainty, and Velocity" to a combined session of the two conferences. Doug and Andrea also did a workshop on "Improving Your Consultancy Skills" for a group of people from both conferences. "We met with people interested in doing a consulting roleplay and being coached. The videotapes of these sessions were left with Australians to help them develop consulting courses similar to ours in the FSU Department of Statistics. One of the videotapes was used by the Workshop for Australia's Young Statisticians as a session at its annual conference in August, 1998."
Dr. Zahn, his wife Andrea, and Dan Boroto continue to do their course in consultancy for United Kingdom civil servants. "Participants in the course now include people in management, training, advertising, and information systems, in addition to statisticians," Zahn reports. The 7th offering of the course is scheduled for Summer '99. Last summer, Zahn and Boroto gave an invited presentation "Teaching Statistical Consulting: An Overview of the ONS Course" to the Wales Chapter of the Royal
Statistical Society in Newport, Wales on April 29, 1998. They also presented "A New Approach to Management" to the London Chapter of the UK Institute of Management Consultants-Internal Consultants Special Interest Group in London on June 3, 1998.
Kaisheng Song contributed a poster at the 13th International Workshop on Statistical Modeling which was held in New Orleans, LA last July. In December he presented an invited paper at the XIXth International Biometric Conference in Cape Town, South Africa in December 1998 (Dr. Song also received a Travel grant from the conference).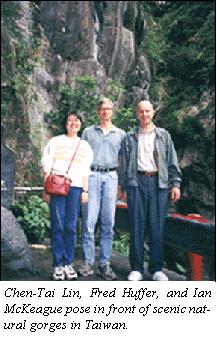 Fred Huffer and Ian McKeague traveled to Taiwan last December at the invitation of former graduate student Chen-Tai Lin (Ph.D. '83), now a Professor of Mathematics at Tamkang University. Dr. Huffer and Dr. McKeague were principal speakers at the Workshop of Survival Analysis and MCMC which was held at Tamkang University. They also visited and gave talks at the Statistical Institute in Academia Sinica and at the National Central University.
Professor Emeritus George Marsaglia continues to have an active research role in the department. He has published two papers this year and is collaborating in research at the University of Hong Kong, where he is a Coinvestigator in a grant from the Chinese government for development of computer security methods.
---

Duane Meeter's Mexican Adventure
Marge and I decided to take our first non-independent travel experience to Copper Canyon, Mexico in September 1998. We first traveled by car in Arizona and New Mexico for 10 days: Jerome, Sedona, Glen Canyon, a steam train from Antonito to Chama, and to Chaco Canyon N.P. We then went from El Paso to Chihuahua by plane, and by train to Creel the next day. We stayed at Sierra Lodge for two days, at an elevation of 7,500 ft, near the Canyon's rim: no electricity, kerosene lamps, good food, and hiking. Tarahumara Indians live all through the area — their culture is based on isolated families herding cattle,
sheep, goats, and growing corn, beans, and squash. For big projects they gather and have a (corn) beer blast afterwards. They are famed runners. A runners' group sponsors them in long-distance races, and in 1993 Tarahumara placed 1st, 2nd, and 5th in a Colorado 100 MILE RACE which starts at 10,000 ft. and goes up a 12,000 ft mountain twice. The winner was 55 years old!
The second part of the stay involved a five-hour trip (only 75 miles!) down into the Canyon (four times larger than Grand anyon) to Batopilas, elev. 1,300 ft. We traveled part way in seats on TOP of the GMC Suburban, in order to see clearly how far we would tumble if the van went off the narrow, bumpy gravel road. Three abutting large houses have been converted into a hotel. We had a courtyard on either side of our rooms. All doors and windows were open day and night – hot and humid in October. Electricity was sufficient to power a fan – no lights. (The town hydro generator produces 200,000 watts, which is about 150 watts per resident!) Food was excellent, even imaginative.
I took a "guided" hike to a deserted mine. Flashlights revealed side tunnels off in all directions, including a 60-degree downward slope – the guide had no rope, and couldn't speak English. There were bats in the cave, and we found out later that there were rabid bats in Batopilas who had bitten eight people, of whom three had died. Three weeks after we returned, the train we had taken was held up by 9 to 16 banditos. A Swiss tourist who was videotaping from the vestibule was told (in Spanish) to stop, and was shot and killed when he did not…needless to say, we are glad to be home.
By Duane Meeter
Back to the Top
---
Research Update - Xufeng Niu and Pi-Erh Lin
Xufeng Niu and Pi-Erh Lin are working on the "Statistical and Biological Assessment of the Everglades Ecosystem." This project is a continuation of last year's project "Statistical Analysis of Environmental Laboratory Data". The study focuses on the evaluation of water quality and biological communities in the Everglades Protection Area.
The Florida Everglades were historically a part of the Kissimmee-Okeechobee-Everglades drainage system. During this century, the Everglades hydrology has been greatly altered by an extensive network of canals, dikes, and pumping stations. Canal discharges, which originate primarily as agricultural runoff, have changed water quality and the ecological characteristics in several Water Conservation Areas (WCAs) of the Everglades ecosystem. The investigation of relationships between water quality changes and biological responses is critical to the assessment of the Everglades ecosystem.
The Florida Department of Environmental Protection (FDEP) is currently gathering data from different agencies for the purpose of conducting an integrated study and evaluation of the water quality and biological communities in the Everglades Protection Area (WCAs and Everglades National Park). The spatial and temporal relationships amount the physical, water quality, and biological factors need to be thoroughly examined.
Several statistical methods are used in this project for the biological assessment of the Everglades ecosystem. The methods include cluster analysis, canonical correspondence analysis, generalized linear models, multivariate analysis of variance, and dynamic regression models. The results of this study will provide valuable information for policy makers as they develop wear quality criteria for the protection and restoration of the health of the Everglades ecosystem.
By Xufeng Niu
Back to the Top
---
New Grants
Lei Li received a First Year Assistant Professor Award this year for his project "Parameter Estimation of Mixture Models with Application to DNA Genotyping".
Dr. Li also won a grant from NSF entitled "Estimating Parameters in Spike-Convolution Models and
Mixture Models".
Ian McKeague was awarded a Senior Investigator's Grant from the National Security Agency entitled "Bayesian Signature Recognition".
Anuj Srivastava recently won a grant from the Army Research Office entitled "Research on Applications of Bayesian Automated Target Recognition".
---
New Table Tennis Champ at FSU
On February 19, 1999, Professor Lei Li, the newest addition to our faculty, won the number #1 spot in FSU's Table Tennis Club in a very exciting game against the university's previous table tennis champion. Dr. Li started playing with FSU's Table Tennis Club the semester after he joined our department in the Fall of 1998. He soon entered the "A" group of the club and then quickly worked his way to the number 2 position.
Professor Li has played table tennis most of his life. At the age of seven his parents encouraged him to join the local table tennis team and he continued playing until the age of twelve. Li found he had a natural talent for the game, and he moved up the ladder to become the #2 player on the Beijing Table Tennis team in his age group. His team was ranked 2nd nationally. When he quit playing at the age of twelve, he was one year short of becoming a professional player. He did not play again competitively until he entered Peking University where his team was consistently ranked among the top five during the years he attended.
William Leparulo, the organizer for the FSU Table Tennis club, asked Dr. Li to join the team in its competition against other colleges and universities in the southeast. Li accepted the invitation and played in his first conference in the U.S. when the team traveled to Emory University in Atlanta, Georgia on March 28, 1999. FSU's team triumphed in the tournament, and Lei Li beat the top players of all the teams, including a U.S. professional. If you are interested in joining the FSU Table Tennis Club, they meet every Monday and Thursday from 6:00 to 10:00 P. M.
By Virginia Grice
Back to the Top
---
Ten New Students to Join the Department this Fall
The department is looking forward to meeting the twelve new students who will join us this Fall. They are:
Seo-Eun Choi (Korea), Ayesha Collins (Trinidad), Kristen Hill (US), Panagiota Kitsanta (Greece), Abdellahi Meneya (Mauritania), Ryan Petska (US), Brian Thomasson (US), Dai Ho Uhm (Korea), Gang Ye (China), and Han Yu (China), .
---
Publications
Hollander, M. and Wolf, D.A., Nonparametric Statistical Methods, Second Edition, A Volume in the Wiley Series in Probability and Statistics, 1999, Wiley, New York.
Huang, L.-S. and Smith, R.L., Meteorologically-dependent Trends in Urban Ozone, Environmetrics, to appear. As part of a broad study to assess the effects of standards imposed by the Environmental Protection Agency, it is of interest to analyze trends in ozone after adjusting for meteorological influences. This paper presents a different approach, in which the meteorological influence is treated nonlinearly through a regression tree. The variability of trend estimates between clusters is reduced by applying an empirical Bayes adjustment. The results go beyond previous analyses by showing that the
trend is stronger at higher levels of ozone.
Greenwood, P.E., McKeague, I.W., and Wefelmeyer, Information Bounds for Gibbs Samplers, Annals of Statistics, 26, No.6, 2128-2156, 1998.
McKeague, I.W. and Subramanian, S., Product-Limit Estimators and Cox Regression with Missing Censoring Information, Scandinavian Journal of Statistics, 25, 589-601, 1998.
Niu, X-F., Estimating Integrals of Stochastic Processes Using Space-Time Data, The Annals of Statistics, 26, No. 6, 2246-2263, 1998.
Bove, M. C., Elsner, J. B., Landsea, C. W., Niu, X-F., and O'Brien, J., Effect of El Nino on U. S. Landfalling Hurricanes, Revisited, Bulletin of the American Meteorological Society, 79, No. 11, 2477-2482, 1998. This paper assessed the changes in the frequency of U.S. landfalling hurricanes with respect to the El Nino-Southern Oscillation cycle. The results indicated that El Nino events show a reduction in the probability of a U.S. landing hurricane, while La Nina events show an increase in
the chance of a U.S. hurricane strike.
Elsner, J. B., Niu, X-F., and Tsonis, A. A., Multi-Year Prediction Model of North Atlantic Hurricane Activity, Meteorology and Atmospheric Physics, 68, 43-51, 1998.
Niu, X-F., Edmiston, H. L. and Bailey, G. O., Time Series Models for Salinity and Other Environmental Factors in the Apalachicola National Estuarine Research Reserve, Estuarine, Coastal and Shelf Sciences, 46, 549-563, 1998.
Livingston, R. J., McGlynn, S. E. and Niu, X-F., Factors Controlling Sea Grass Growth in a Gulf Coastal System: Water and Sediment Quality and Light, Aquatic Botany, 60, 135-159, 1998.
Song, K., Recent Developments in Population Pharmacokinetic Modeling, appeared in the Invited Papers Volume at the XIXth International Biometric Conference, 1998.
Song, K,., On Compound Exponential Distribution, appeared in the proceedings of the 13th International Workshop on Statistical Modeling, 1998.
Srivastava, A., Miller, M.I., and Grenander, U., Bayesian Automated Target Recognition, chapter in Handbook of Video and Image Processing (Alan Bovik, Editor), 1999.
Grenander, U., Miller, M.I., and Srivastava, A., Hilbert-Schmidt Bounds on Matrix Lie Groups for ATR, IEEE Transactions on Pattern Analysis and Machine Intelligence, 20, No. 8, 1998.
Srivastava, A., Performance Bounds for Subspace Estimation in Array Signal Processing, Proceedings of the Ninth IEEE SP Workshop on Statistical Signal and Array Processing, September, 1998.

---
Presentations
Myles Hollander participated in Public Statistics Day at the Joint Statistical Meetings in Dallas last August and gave a talk on redundancy to high school students. In April, 1999, Hollander also gave the Ralph A. Bradley Lecture at the 7th Bradley Lecture Series at the Department of Statistics, University of Georgia, Athens. Hollander's talk was on "Nonparametric Inference for Recurrent Data" (joint work with Edsel Pena, Bowling Green State University and Robert Strawderman, University of Michigan). Expressing his thoughts on presenting the lecture, Hollander said, "Ralph is the founder of our statistics department and is a giant in the profession. I am extremely pleased to have this wonderful honor and to have my name linked with Ralph's in this way."
Ian McKeague attended the 13th International Workshop on Statistical Modeling in New Orleans last July. This March he presented talks at the Departments of Biostatistics of the University of California, Berkeley and UCLA.
Jayaram Sethuraman presented the paper "Conformation in Metric Pattern Theory" at the Army Statistician's Conference at New Mexico State University last October and at the meeting of the Florida Chapter of the ASA in Gainesville, FL on February 13, 1999.
Kaisheng Song presented an invited talk at the Division of Statistics, University of California, Davis in May, 1998.
Anuj Srivastava and Ph.D. candidate Marc Loizeaux attended the Aerosense SPIE conference this April in Orlando, FL where they presented papers on their work in automatic target tracking and recognition, automatic battle damage assessment, and quadratic analysis of information measures for object recognition.
---
Other News and Notes
Ian McKeague will be ending his 3-year term as Departmental Chair this August. Myles Hollander will take over as chair for the second time in his career. Hollander's first term as Chair was from 1978-1981.
Blake Whitten won the Department's Anna and Youngyuan Li Award for his colloquium entitled "Likelihood Analysis of Space-Time Regression Models in the Presence of Missing Data."
Michiko Ishiyama received the Department's 1997-1998 award for Best First Year Student in Applied Statistics and Yichuan Zhao won the award for Best First Year Student in Theoretical Statistics .
Shaojun Zhang was awarded a University Fellowship for the 1999-2000 academic year.
Doug Zahn and Ian McKeague both won awards this year. Doug was awarded a University Teaching Award for excellence in undergraduate teaching. Ian McKeague won a Professorial Excellence Program Award.
Doug Zahn gained one daughter-in-law last year when his son Derek got married and will gain another daughter-in-law when his son Devin gets married this May.
1998 M.S. graduate Ampegama Perera is now working for the National Council on Compensation Insurance, Inc. in Boca Raton, FL. Ampegama and his wife Molly got to take a new family member with them to Boca -- their first child, a son named Anush, was born last August.
Another 98 M.S. graduate, Kara (Morgan) Clarke, moved to Virginia last winter to work for the Census Bureau's Decennial Statistical Studies Division. Kara is a mathematical statistician on the Statistical Communications Staff and was recently added to the Long Form Sample Design and Estimation Team where she responds to statistical questions from the public, the bureau, Congress, the press, and the Government Accounting Office.
Hocine Tighiouart (M.S. '98) is working at Beth Israel Hospital in Boston, MA.
Xu "Sherry" Cao (M.S. '99) is now in Sunnyvale, California working as a mathematical statistician in a VA Medical Center in the Menlo Park area. Sherry is part of a group is performing research on thousands of patients suffering from heart failure.
Karla Mutuc (M.S. '98) is an Operations Management Consultant II for the Bureau of Research and Data at the State of Florida's Department of Juvenile Justice: "I put together yearly reports on recidivism rates and program accountability measures. I also provide most of the data for the Annual Quality Assurance Report for the State. The rest of my time I get to involve myself in independent research projects on juvenile delinquency related issues. For example, I am helping to put together a Girl's Initiative Program for Leon County. We are grouping the newer at-risk girls who are in the system with female
juvenile probation officers, and developing a series of workshops for the girl's group meetings. Workshops would include talks on domestic violence, self-esteem, drugs, eating disorders, depression, etc. "
Stephen Lee (Ph.D. '91) received confirmation recently that he has "passed the hurdle" in his promotion and tenure consideration at the University of Idaho.
---
For those of you who would like to help support the Department of Statistics at FSU, we have set up a web-version of our gift form that can be printed out and mailed in to the FSU Foundation.
About Our Funds...
The Statistics General Development Fund was created to provide general support for our department in a variety of areas. The fund has most recently been used for providing lunch for invited speakers, refreshments for the departmental colloquium series, and for meetings of the faculty and graduate teaching assistants. Other uses of the fund in the past include funding for travel, supplies, and equipment expenses for the use of graduate students; the purchase of audio equipment for classroom use; and, emergency loans for graduate students.
The Ralph A. Bradley Student Award is named for our department's founder, Dr. Ralph A. Bradley. The Bradley award is presented to a graduating Ph.D. student who has demonstrated outstanding achievement, culminating in the presentation of the best doctoral dissertation of the year. Since its inception in 1979, 17 graduate students have received the award. They are: Ramon Leon, 1979; Carlos A. B. Pereira, 1981; Harry S. Joe, 1982; Frank M. Guess, 1984; Wai T. Chan, 1985; Edsel A. Peña, 1986; James A. Sconing, 1986; James H. Clair, 1988; Brett D. Presnell, 1989; B. Narasimhan, 1991; T.V. Kurien, 1991; Gang Li, 1992; Yanqing Sun, 1993; Hulin Wu, 1994; Crisanto Dorado, 1995; Jeffrey Stein, 1997; and Mourad Tighiouart, 1998. Dr. Bradley, who is now Professor Emeritus at the University of Georgia, still keeps in touch with our department about the award. He recently made a special offer to match up to $10,000 for contributions made to the Bradley Award Fund.
The Ronald and Carolyn Hobbs Endowed Fund in Statistics was established earlier this year thanks to the generosity of Ronn Hobbs (M.S. '67) and his wife Carolyn. This fund is to be used to support outstanding faculty and students within the department. Appropriate expenditures include awards, equipment, facility enhancement, and travel.
The Yongyuan and Anna Li Fund was established in October 1997 by Anna Li in memory of her husband Yongyuan Li who died from cancer on April 7, 1997. Yongyuan was a promising Ph.D. student in our department and the Yongyuan and Anna Li Award was created to commemorate that promise by recognizing our current and future outstanding graduate students with an award for the student who presents the best student colloquium each year in our department's colloquium series. This year's award went to Blake Whitten.
---
Alumni Update Form
If you would like to update your records or let us know about a news item or an event in your life, please send an
email to info@stat.fsu.edu or print out, complete, and return the web-version of our Alumni Update Form .

---
Comments? Suggestions? We look forward to hearing from you and to receiving your submissions for
future newsletter items. You may reach us by mail, phone, fax, or email.
Florida State University
Department of Statistics
Tallahassee, FL 32306-4330
(850) 644-3218
fax (850) 644-5271
info@stat.fsu.edu